Mystery foam fills the streets after earthquake strikes Japan


Megan Specia | Mashable
Apr 15, 2016
http://on.mash.to/1SRclyU

A strange sea of bubbles filled streets in a southern Japanese city in the early hours of Saturday morning, after an earthquake and several aftershocks rattled the south of the country.

In the Tenjin area of Fukuoka city, motorists and pedestrians made their way through the foamy mess after it spilled out onto the streets.

Some reported that an underground pipe burst, releasing the material, but little information was immediately available.

An earthquake rattled the area shortly before the foam appeared in the street, leading many to believe the weird white substance was linked to the quakes.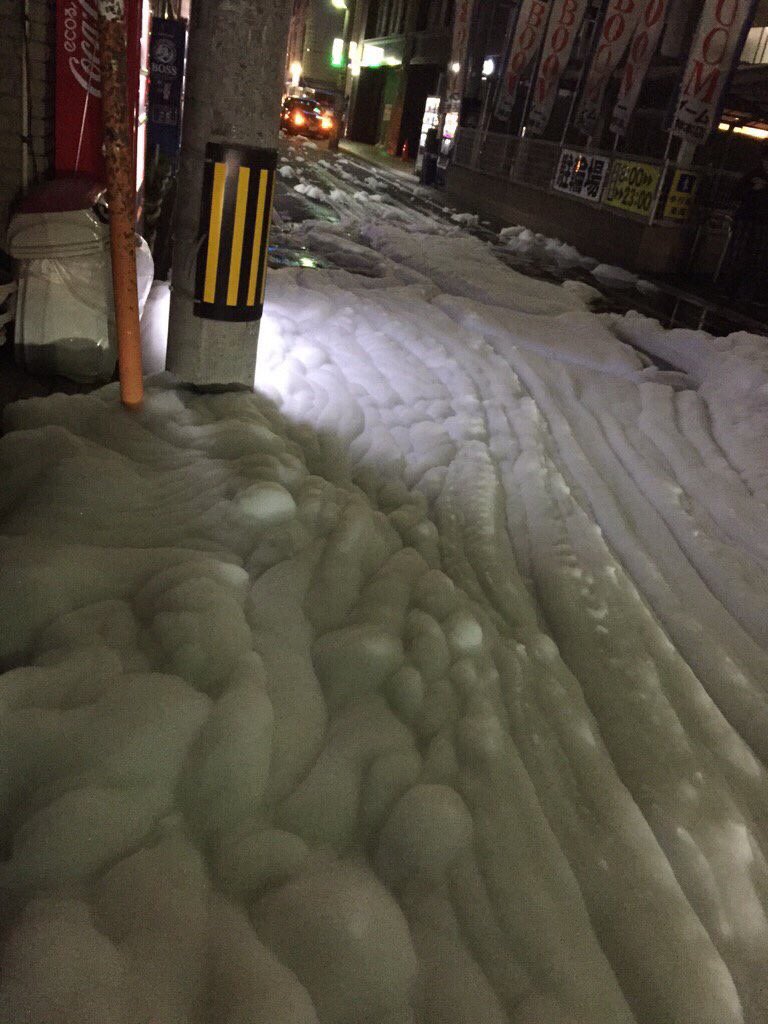 Caption: 天神が謎の泡?
(Romanized: Tenjin ga nazo no awa)
English: The Tenjin mystery bubbles
Kumamoto residents pick up the pieces following Kyushu's strongest quake
by Daisuke Kikuchi, Staff Writer

Japan Times
Apr 15, 2016
http://bit.ly/23MBhPF



Caption: Roof tiles that fell from a house in Mashiki, Kumamoto Prefecture, are seen on Friday morning. The area was severely hit by a magnitude-6.5 quake Thursday night. | KYODO

MASHIKI, KUMAMOTO PREF. – The toll from the high-intensity earthquake in Kumamoto stood at nine dead and over 1,000 injured Friday as rescue crews scrambled to search the debris for survivors.

The shallow, magnitude-6.5 quake toppled houses and buckled roads in and around the prefectural capital on Thursday night in what was Kyushu's first level 7 temblor on the seven-tier Japanese seismic intensity scale.

"It was just like the Great Hanshin Earthquake or the Great East Japan Earthquake. I never thought I would experience that here," mother-of-one Akiko Hakata told The Japan Times. "I hunched over my son to protect him."

Most of the victims were in the town of Mashiki, on the capital's eastern fringe. But heavy damage was incurred elsewhere, including at historic Kumamoto Castle.

The quake struck at 9:26 p.m. at a depth of just 11 km under Mashiki, the Meteorological Agency said, prompting tens of thousands of residents from there and elsewhere to take refuge at public shelters for the night.

Rash of problems prompts fears that Japan's reactor restarts have been too hasty

The Japan Times
Mar 1, 2016
http://bit.ly/1qw1Xpf

In the wake of problems with restarted reactors, concerns have grown that nuclear authorities and power suppliers have been too hasty in putting the idled units back into operation.

Reactors 1 and 2 at the Sendai plant operated by Kyushu Electric Power Co. in Kagoshima Prefecture were reactivated last year.

The Sendai reactor 1 had a problem with equipment that caused a seawater leak from a cooling system before shifting to commercial operation mode.

Experts say reactors are prone to problems after being idled for years.