HILLARY CLINTON GAVE A SPEECH NOT BASED ON FACTS IN MANY AREAS WHILE IN PHILADELPHIA. BY ERASMUS OF AMERICA - JULY 29, 2016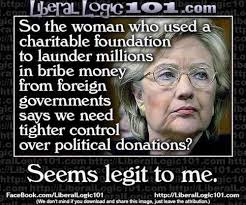 IN THE TODAY'S EDITION OF MSN.COM, THEY CHECKED OUT HILLARY'S SPEECH AND FOUND IT FULL OF ERRORS IN STATEMENTS MADE BY HER AND MISQUOTES CLAIMED MADE BY DONALD TRUMP. CHECK IT OUT ON MSN.COM!

MSM.COM DID NOT MENTION THIS, BUT DONALD TRUMP MADE A QUOTE ON AN ECONOMIC SUBJECT AND ANYONE FAMILIAR WITH ECONOMICS WOULD HAVE RECOGNIZED WHAT HE WAS TALKING ABOUT. HILLARY DOES NOT KNOW SERIOUS ECONOMICS AND SO SHE DID NOT RECOGNIZE WHAT DONALD TRUMP WAS TALKING ABOUT! IF SHE HAD KNOWN ECONOMICS, SHE WOULD HAVE MADE A COMMENT LIKE DONALD TRUMP DID WARNING THE AMERICAN PEOPLE THAT THEY FACE A DEADLY THREAT TO THEIR SURVIVAL LIKELY LATE THIS YEAR OR ELSE EARLY NEXT YEAR. THIS ECONOMIC THREAT WHICH WAS NOT CORRECTED BY THE OBAMA ADMINISTRATION NOR HILLARY WHEN IN THE STATE DEPARTMENT HAS GROWN OUT OF HAND AND THREATENS THE SURVIVAL OF THE AMERICAN PEOPLE AND POTENTIALLY ALL THE PEOPLE ON EARTH. DONALD TRUMP SAID ON DECEMBER 19, 2015: "REMEMBER THE WORD BUBBLE. YOU HEARD IT HERE FIRST." RETIRED ECONOMIC PROFESSOR CHARLES HAYEK EXPLAINS THE WORLD ECONOMIC BUBBLE THAT AMERICA AND THE WORLD FACES IN HIS 20 MINUTE OR SO VIDEO ON THE FINALBUBBLE.COM. AMERICANS DO NOT REALIZE IT BUT THE AMERICAN ECONOMY ALMOST MELTED DOWN IN ONE DAY IN A SIMILAR BUT SMALLER BUBBLE BUT THE SECRETARY OF THE TREASURY ACTED FAST ENOUGH TO SAVE AMERICA FROM ECONOMIC COLLAPSE AS A NATION THAT DAY.

Be sure and look up the video on the finalbubble.com. I studied with six of the most brilliant economists of America and Europe including a German endorsed by Albert Einstein, Sir John Maynard Keynes, and other brilliant sources as teaching the most powerful economic science in the world. I appreciate quality economic presentations and Professor Charles Hayek did an excellent job of showing the danger to us with a basic 552.9 trillion dollar world total in financial derivatives ready to collapse and basically 7 times bigger than the annual world economy in income. If the derivatives market collapses the world economy also collapses like a house of cards. Then man is suddenly faced with a life on earth looking like a science fiction horror movie of what happens to living on earth! I have at times called this economic factor "The Doomsday Factor To Industrial Economics." Collapse the national economies and in nations like America the final death toll with the total collapse of food and water services, fuel, etc. could reach potentially even 90% to 98% of all the people dead in a nation and that could easily include most or all of the personnel working for national governments such as the military, elected officials, personnel staffing legal agencies of the government, etc.

In case the American people as a group and race just want to sit still and let events get out of hand, I will for a short time send to your email you who care a report on how to make an auto fuel and heating fuel out of some natural materials close to any home in America and cheaply at that! You put in $25 or more into my Omni Law Loan Program shown on my national website for now and I will send to you this report as a free bonus on how to make your own homemade auto and heating fuel from local natural supplies in your area. All you need for energy to make these fuels is some free solar energy given out by a daily sun! And a very cheap setup to make and use solar energy to make fuel with. Easy to make also! If you are going to let your economy collapse, then might as well get ready for the brutal society you will live in then.

I know that Donald Trump has thought up some sort of plan how to save America from economic collapse if the world derivatives market suddenly collapses worldwide. Professor Charles Hayek has I am sure some ideas how to handle this situation if the threat of a derivatives market collapse faces America and the world. I would invite both men to join with me and let us form a collective joint plan how to handle this deadly and close threat to America if it happens! A lot of my economics comes from top secret economic material such as how Nazi Germany used the Bernard Baruch plan for industrial America to save the American economy from collapse if imminent and used by Nazi Germany instead of America as they studied his plan whereas America was too bored to read a technical economic report like this written for America. The "Inverted Inflation" conceived of by Bernard Baruch for America was used by Nazi Germany instead who listened to American geniuses like Dr. Robert H. Goddard and they followed through on his rocket ideas as well as the industrial economic plan of Bernard Baruch to skyrocket the American economy which skyrocketed the Nazi economy instead of American and made them the fastest growing industrial economy in the world once they got momentum going with this plan. I read the Soviet intelligence report on how the Nazis had outwitted the Communists and others by making the German economy grow much faster with this Nazi economic tactic than the Communists could with a Communist economy. A friend of mine in London, England supplied me with a copy of this British intelligence captured report originally obtained from a Communist source in the Soviet Union during World War II. I spent eleven calendar years in military academies and in the process of time developed many military intelligence contacts and sources in the world as I took to intelligence work like a duck to water!

By the way I listened to Putin's speech given this year asking Obama (and Hillary) led Wash., D.C. not to trigger off a nuclear arms race with Russia. Putin said this would trigger off massive new costs for Russia to do this. However, having cracked the security of Moscow's Institute Of Nuclear Studies years ago I know that Putin is trying to hide that Russia already has the answers how to nuclear annihilate America in a nuclear World War III so Russia can produce these nuclear ultimate weapons for far less than the Pentagon realizes. Of course I am sure that Putin appreciated that Hillary Clinton arranged so that Russia could buy uranium rich land where she had authority to do so. These supplies could enable Russia to build nuclear bombs to annihilate America with cheaper than otherwise! The Russian code name for the nuclear annihilation of America was "The Ring of Steel." I got that through the Moscow Institute For Nuclear Studies when I cracked their security years ago!

One man does an excellent job in doing research work like an operative in military intelligence. I give you his link to see what he dug up on Hillary Clinton. http://www.whatreallyhappened.com/WRHARTICLES/EpicOfClintonsMess.php She is not virtuous and honest as pretended. In intelligence work, you often know facts not known by the public. For example, some sources commented to me a long time ago that everyone in C.I.A. knew that Obama was born in Kenya, not America, and was not even an American citizen!

By the way the Omni Law once passed will give the American people the legal right of referendum over the federal government. This will force Wash., D.C. to be the servant of the people instead of their intended master. Many members of Congress and heads of federal agencies pull cons on the people and often tell lies instead of the truth to the American people. Pass this report around. You don't want a derivative market world crash and suddenly you have lost all your money in banks, etc. By the way, Obama needs to take his hand off of the Global Currency Reset and let the RV of foreign currencies start immediately. This potentially might head off the pending crash of the world derivative market. My website is www.fastboomamericaneconomy.com Email isfastboomamericaneconomy.com@gmail.com Mailing address if you can't use the PayPal buttons on my national website. NIFI, P.O. Box 1465, Seneca, SC 29679 >Make checks, etc. out to NIFI and tell us what the payment is for. In case of reports sent by email, give us your email address.

Yours for God and Country, Erasmus of America (economist who writes under a pen name. By the way, if you can use logic and common sense, the theory of evolution is scientifically impossible. And life had to be started by God the Creator. Like Albert Einstein, science shows me the existence of God, not the contrary. How did life start breathing as that is a sudden act to the starting of life on earth? Evolution which is random chance did not gradually build up to breathing air. Life begins with the first breath of air and that requires that someone starts you breathing the first time if life is formed on this earth.)
"Christianity must be founded upon thinking!" Albert Schweitzer of Africa. "It takes intelligence to serve God well!" - Old Jewish Proverb "Listen to the truth and the truth shall make you free!" - Bible Teaching P.S. Hillary is committed to the theory of Global Warming rejected by most scientists and engineers not working for the government and risk losing their jobs if saying that they do not believe in Global Warming according to the scientific facts available. One group acting to stop this environmental agenda takeover of society is
Anti-Geoengineering Legal Alliance

Files US 60 Day Notice Of Legal Action


July 26, 2016 144 Comments


Dane Wigington
geoengineeringwatch.org

For over a year GeoengineeringWatch.org and a group of very dedicated attorneys has diligently and consistently worked on formulating a plan of legal action to effectively expose and halt the ongoing global climate engineering assault against our planet. Our team, the Legal Alliance To Stop Geoengineering, is comprised of attorneys and experts that are completely committed to the most critical cause of stopping global geoengineering. The increase in public awareness that will result from this legal effort is crucial. Public support of this effort is essential in order for the legal team to continue moving forward in this this critical battle.

LASG website


When Gorbachev first arrived in America after losing power in Russia, he sent a private letter to Communists across America. He said that Communism would win in America by pushing Global Warming as the issue to change the laws and policies of America. It would give the front to nationalize the land and industries and put Americans under a Communist economy and government in the name of "The Environment." I think a few years back a poll was taken of scientists and engineers over Global Warming as an issue. Of around 1,000 working for the government nearly all said that they believed in Global Warming as a scientific fact. Would they hold their jobs if they disagreed with the official federal propaganda line? Around 90% or more of the nearly 30,000 polled said they did not believe in Global Warming as a scientific fact. The scientific evidence and data showed them why not to believe in it. News censorship only tells you one side of the story in liberal controlled issues. Hillary claims that Global Warming is a scientific fact and government policies must be formed around it to enforce the policy of not allowing man to heat up the earth. Thirty or forty years earlier the same elements were claiming that the earth was getting cooler all the time and we must control the environment in order to keep the earth from losing its heat. Most scientist and engineers think that the heating and cooling of the earth is based upon solar cycles and not the environment on earth. When there is only one carbon dioxide molecule to capture heat for thousands of molecules of ordinary air which will not capture heat, then the mathematical odds are against Global Warming being a scientific reality. I know science too well to fall for Communist front propaganda! Sorry Hillary, but you lose the debate on this issue!