Wikileaks release Part 3 of Podesta emails


Published time: 11 Oct, 2016 12:43
Edited time: 11 Oct, 2016 14:54


© Fabrice Coffrini / AFP

A fresh batch of emails from Hillary Clinton's campaign chairman and former counselor to President Obama, John Podesta, has been released by Wikileaks.

As many as 1190 new emails comprise part of the latest release, adding to the more than 4,000 emails from Podesta already released by the whistleblowing website. Wikileaks founder Julian Assange claims they are sitting on a trove of 50,000 messages.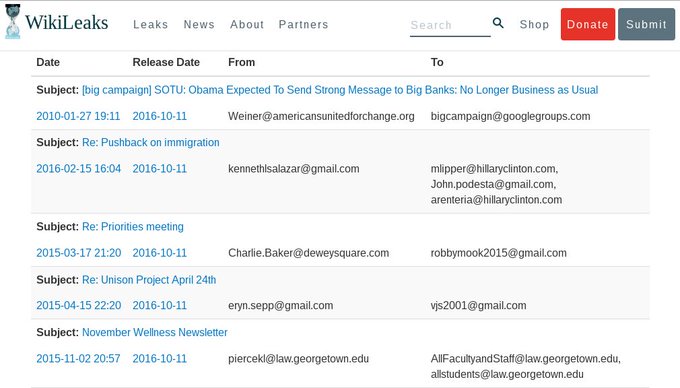 One email has caused debate over whether Podesta is revealing that Clinton hates everyday Americans, though it appears the problem is with the phrase "everyday Americans" being included in a speech.

"I know she has begun to hate everyday Americans, but I think we should use it once the first time she says I'm running for president because you and everyday Americans need a champion." Podesta wrote to Jennifer Palmieri, Clinton's Director of Communications, in April 2015.


Also included is an email chain from February 15, 2016 titled 'Pushback on immigration,' which shows a request for Ken Salazar, who was the US secretary of the interior from 2009 to 2013, to write an op-ed to smear Bernie Sanders' "professed support for immigration."

The emails reveal frustration from Clinton's camp over President Obama's reluctance to show support for her. Dated March 12, 2016, over a month after primaries began, Neera Tanden [President and CEO of the Center for American Progress] asks Podesta "Can Obama even hint of support of Hillary before Tuesday? Really, just a directional nod would be helpful."

"Maybe they don't want to do this, but the stakes are pretty damn high in this election for him," Tanden says. Podesta asks."Why don't you push Valerie a little bit," possibly referencing Valerie Jarrett, senior adviser to Obama.