North Korea halts nuclear and missile tests ahead of planned Trump summit

Pyongyang also says it plans to close nuclear test site

Summit between North and South to be held on Friday
Source: The Guardian | By Justin McCurry in Tokyo
Fri 20 Apr 2018 18.34 EDT
First published on Fri 20 Apr 2018 18.25 EDT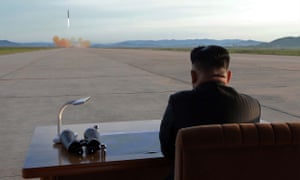 The North Korean leader Kim Jong-Un inspects a launching drill of a ballistic rocket in September 2017. Photograph: AFP/Getty Images
North Korea has said it will end its tests of nuclear weapons and intercontinental ballistic missiles, and shut down its nuclear test site, in a dramatic development ahead of a much-anticipated meeting between its leader, Kim Jong-un, and Donald Trump.
The suspensions went into immediate effect on Saturday, according to state-run KCNA news agency.
The US president greeted the news in a tweet. "This is very good news for North Korea and the World – big progress!" Trump wrote.
North Korea has agreed to suspend all Nuclear Tests and close up a major test site. This is very good news for North Korea and the World - big progress! Look forward to our Summit.

— Donald J. Trump (@realDonaldTrump) April 20, 2018
The news comes less than a week before Kim meets the South Korean president, Moon Jae-in, for a summit in the demilitarized zone that divides the peninsula.
It goes a long way towards meeting US demands for denuclearisation, as Pyongyang and Washington work to agree on when and where Kim will meet Trump for historic talks that barely seemed possible just a few months ago.
The decision to suspend nuclear tests and missile launches came at a plenary meeting of the ruling party's central committee, which had convened on Friday to discuss a "new stage" of policies – prompting speculation that the regime would move towards denuclearisation.
"As the weaponisation of nuclear weapons has been verified, it is not necessary for us to conduct any more nuclear tests or test launches of mid- and long-range missiles or ICBMs," Kim told the meeting.
"The northern nuclear test site has completed its mission," he added at the meeting, according to KCNA.
North Korea has conducted all six of its nuclear tests at the same Punggye-ri test site in the country's north-east. It tested its first nuclear weapon in 2006, while its last – and most powerful – test came last September.
Those tests, plus a string of missile launches ordered by Kim over the past year, at one point appeared to be taking the peninsula to the brink of conflict.
The North's quest to develop a deterrent against what it has long described as US hostility resulted in an extraordinary exchange of insults between Kim and Trump, and frequent warnings from Washington that it would not rule out military action to end Kim's nuclear ambitions.
Saturday's announcement came the day after a hotline between Kim and the South Korean president went live.
The hotline connects Moon's desk at the presidential Blue House with North Korea's state affairs commission, which is headed by Kim, Yonhap news agency said.
Earlier this week Moon, a liberal whose election in May raised hopes of a detente on the Korean peninsula, said that Pyongyang had expressed a desire for the "complete denuclearisation" of the Korean peninsula without attaching preconditions such as the withdrawal of US troops.
The two countries are due to hold a summit next Friday on the southern side of the demilitarised zone.
The meeting is to be followed in May or June by a meeting between Kim and Trump. The US president on Wednesday pledged to meet Kim "in the coming weeks" but said he was prepared to walk away if the talks were not fruitful.