The Calm before the Storm: Hurricane Florence?

September 11, 2018

Source: Golden Age of Gaia | By Steve Beckow




Credit: Philly.com

As we leave the last leg of the political calm before the storm, we do so as well from the weather calm.

David Wilcock has plotted the path of Hurricane Florence as passing right through Washington. (1) Is that just a coincidence?

I don't think so.

Look at how useful the storm is to the White Hats. For one thing, it provides cover for President Trump to say there'll be unusual activity from government officials and please obey them:

"The Storms in the Atlantic are very dangerous. We encourage anyone in the path of these storms to prepare themselves and to heed the warnings of State and Local officials. The Federal Government is closely monitoring and ready to assist. We are with you!" (2)

Future proves past? Look at this message from Q Anon on March 3, 2018:

We are WITH you.
MAKE IT RAIN.
Q (3)

Q predicting the storm months ago suggests the storm is a White-Hat/galactic invention.

I believe that the White Hats and their off-planet allies are using it as part of a dragnet, perhaps occurring today (9/11).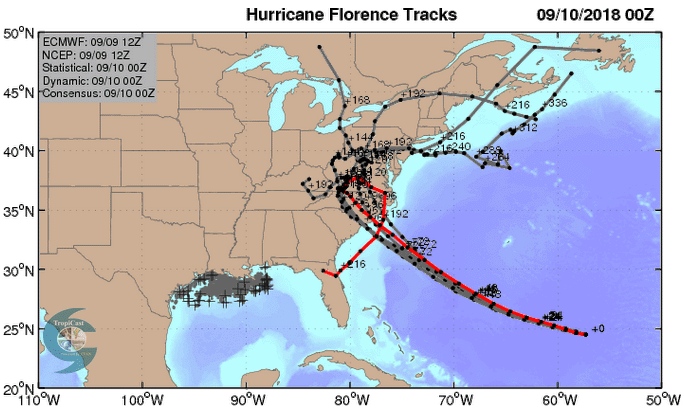 Credit: David Wilcock. Storm heads right for Washington. Coincidence?

Some might say, no, it's the cabal fighting back with HAARP.

My understanding is that HAARP was taken down some time ago. I stopped asking about it in 2013 when I received these answers:

Steve Beckow: XX would like to know if HAARP has been deactivated.

Archangel Michael: Yes, it has. (4)

Steve Beckow: if I could get you to comment, please, on the recent tornadoes in Oklahoma, whether they were a HAARP phenomenon, or has HAARP been decommissioned or neutralized?

Sanat Kumara: HAARP has been decommissioned, as you would think of it. (5)

So, no, either Hurricane Florence is a complete invention of the White Hats and their off-planet allies on your screen or else it's a genuine storm that provides cover and reason for White Hat military and police interventions.

Notice that the storm will not make landing until Thursday and then off the Carolinas, not Washington. Would it be too far-fetched to imagine the storm rapidly die away after 9/11 and never reach Washington? But what excellent cover for military manoeuvers it would make.

The White Hats say they are controlling the agenda. How deep does that control go?

Footnotes

(1) David Wilcock, "Stunning New Briefings: Spy Satellites Down, Deep State Arrests Finally Imminent?" Divine Cosmos, Sep 8, 2018, at https://divinecosmos.com/davids-blog/22005-stunning-new-briefings-spy-satellites-down-deep-state-arrests-finally-imminent/?showall=1

(2) @realDonaldTrump, Tweet, Sept. 10, 2018.

(3) ID: 85cc02, March 3, 2018 at https://qanon.pub/.

(4) Archangel Michael in a personal reading with Steve Beckow through Linda Dillon, Aug. 6, 2013.

(5) "Sanat Kumara: Many of You Have Already Ascended and Straddle Dimensions," May 28, 2013, http://goldenageofgaia.com/2013/05/sanat-kumara-many-of-you-have-already-ascended-and-straddle-dimensions/.